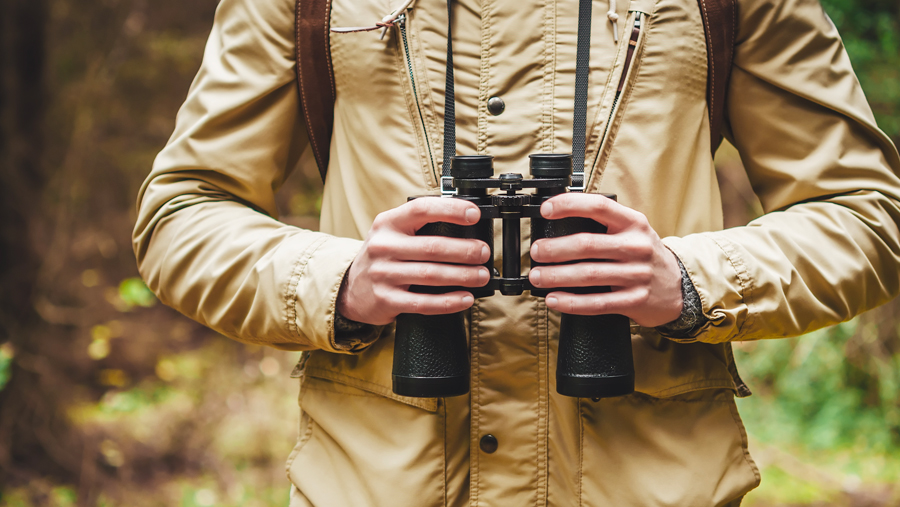 One of the most essential items needed for a good hunting experience is a pair of reliable binoculars. A good pair of binoculars can be the difference between a fantastic hunt and a mediocre one. However, with so many binoculars available in the market today, all with differing features to purchase, it can be difficult to know which ones will offer the best value for your hunting experience. In this guide, we will detail the most important features to look out for, and we will also give you a great list of the best binoculars for hunting to suit any budget you may currently have.
Binoculars Buyers Guide
When you are on the lookout for hunting binoculars, there are a few specific features that you should look out for. You should be able to quickly learn what exactly separates a good hunting binocular from a bad one. The further you read in this article, the more points you'll be given to ensure you know what you're looking for.
One of the most important aspects of a hunting binocular is the magnification. This is a crucial aspect for any binocular and in many ways it is the first thing to look out for. However, for hunting the highest magnification isn't necessarily the best. On the high end of the scale, you can start to face issues with the steadiness of your image. Therefore, a magnification level between 7x and 10x will be suitable for most hunts.
Another essential feature to look out for is image quality. In general, the higher the quality the higher the price of the binoculars. For hunting, high quality is not essential, therefore you can choose a level that suits your budget. For hunters who go out regularly in low light and extreme weather conditions, image quality will be far more important. Another factor to take into account is waterproofing. Even if you don't go out in extreme weather conditions, you can always be suprised by unpredictable circumstances. You should look for binoculars that have a good level of waterproofing to ensure that a bit of rain doesn't ruin a hunt.
One top consideration to take into account will be how well a pair of hunting binoculars can handle different situations. Many people tend to go hunting when it may be raining which can lead to lower visibility. There are many binoculars which come included with excellent waterproofing as well as terrific low-light visibility. These features tend to come with a premium price, which means your buying choice is dependent on your hunting habits.
The accessories that come with your hunting binoculars can also vary depending on the price. It makes sense that the lower priced binoculars will come with fewer accessories that are lower quality. The premium range usually includes high-quality addons such as straps and cases. When making a decision with regards to accessories, you should consider what you will actually use. There is no point splashing out for flashy accessories that are rarely used.
10 Best Binoculars for Hunting
Below, we will go through the top 8 hunting binoculars currently available to purchase. They have a variety of features, and you will be able to find a pair to suit your budget and requirements.
Best Premium Picks
Carson 3D Series High Definition Waterproof Binoculars with ED Glass
To start off our list, we begin with the best pair of hunting binoculars currently on the market. The Carson 3D Series come with everything that would expect from a premium pair of hunting binoculars. The study durable construction provides long-lasting reliable performance. The addition of America's best binocular warranty provides further peace of mind, and set of high-class accessories that come included make the pair a worthwhile purchase.
Highlights
ED Glass
Waterproof and hardwearing
Camouflaged – great for hunting
Our Recommendation
If you are looking for the best of the best then these are the right binoculars for you. They have an excellent, crisp image quality and deliver excellent performance even in low light conditions. The price tag is further justified by the addition of some high quality accessories which includes a deluxe carry case, neck strap, shoulder harness, lens covers and lens cloth. The ED glass means a sharp and super high contrast view with true-to-life color.
Insanely crisp clarity at all levels of magnification that stands up to low quality – low light situations. Many of these features are due to the well constructed build of this particular set of binoculars and Carson spared no expense with their anti-reflective, ED lens construction, with phase corrected prisms. They use dielectric coated prisms for a crisp and clear full view. The eye relief is also top notch, with an extra long relief that is perfect even for eyeglass wearers. All in all, this makes this the top pair of binoculars for hunting and a pair you will definitely not regret purchasing. In addition, you have an unbeatable, unconditional lifetime warranty just in case you experience any issues.
Upland Optics Perception HD 10x42mm Hunting Binoculars
The runner up on our list is the Upland Optics Perception HD which is packed with a ton of top-level features. These binoculars have been made to handle even the toughest of weather conditions. They have a comfortable viewing position and good eye relief. The only main downside is that they may not be the easiest binoculars to focus, but like our first choice pick, they do also come with a decent set of accessories.
Highlights
Waterproof, fogproof and durable
Decent amount of accessories included
Made by hunters, for hunters
Great clarity of vision
Our Recommendation
f you require a top level pair of hunting binoculars that can survive whatever conditions nature chooses to bring forth, then these are the perfect pair for you. This is jam-packed with great features to help in any long-range viewing you may need. Rugged, durable, and ready for in-field use, this is a great addition to your gear. This is a perfect tool for hunting of course, but it doubles as an amazing pair of binoculars for target shooting, bird watching, sports/outdoor watching, archery, even astronomical views. Weather is unpredictable, stay as flexible as possible with great, weatherproof binoculars!
Best Budget Picks
Nikon 10×42 ProStaff 3S Binoculars

This next pick is perfect for those looking to get the best value from their hunting binoculars. However, being on a budget doesn't mean you have to settle for lower performance. The Pro Staff is extremely reliable and suited for high performance in the long-term. One of the standout features is the excellent grip which provides both superior comfort and protection. The multi-coated optics make the binoculars suitable for hunting in all conditions. Your in field performance will see great improvement with the aid of this setup. Not only is this set built with the best of the best materials wise, but it has a lighter weight coming in at just 20 ounces.
Highlights
Fantastic Grip
Suitable for Multiple Conditions
Sleek design
Our Recommendation
If you're looking to get the most bang for your buck, then these are highly suitable binoculars. The cheaper price does not mean a dip in performance. Attention to detail can be seen in the construction, which includes nitrogen filled housing with o-ring seals for waterproof and fog resistant use regardless of where you are in nature!
These binoculars excel in the all crucial aspects required for hunting. Sharp, bright imaging, in an always fog-free view kicks off the benefits of this set. You also get a pretty generous view without compromising the eye relief length – which we all know helps in target finding, as well as a 42mm objective lens that pairs beautifully when the anti-reflection comes into play – along with the multi-coated optics, helping to improve light transmission and clarity.
Rubber construction of the outer case allows for rough and tumble use, ensuring you can be a little crazy in field without worry. Super reflective silver-alloy prism coating reduces the internal diffraction for improved light transmission as well, for that little bonus you need in play sometimes.
Bushnell Falcon 133410
Another highly rated budget pick is the Bushnell Falcon. This is one of the cheapest hunting binoculars available to purchase. However, the low price does not result in a low quality product. In fact, for the price range, this is by far the best the best pair of hunting binoculars that you can buy. It comes included with 7x magnification, and an impressive instafocus feature which makes tracking targets very easily. This set does have fold-down eyecups to help protect any additional eyewear from any damage while in use, which is a bit of an underrated feature if you're in the sun – or of course – you have glasses you use regularly.
Highlights
Non Slip Rubber Grip is Comfortable
Fold Down Eyecups
Instafocus Works Well for Tracking Targets
Field of view of 420 feet at 1000 yards
Our Recommendation
For those on a tight budget, this is a highly affordable pair of hunting binoculars that comes packed with useful features. It does offer 7x magnification, so if this level is enough for you then it is well worth the price. Even at 7x magnification, these still pack a punch with 420 FOV (field of view) at 1000 yards as well as 20 feet close focus distance. You also have a 12 millimeter eye relief paired with a 5 millimeter exit pupil all with a 35 millimeter lens.
The 21 ounce distributed weight, makes this a little heftier to carry with all your other gear, but makes up for it in the overall finish of the pair – allowing for abrasion resistant casing, and a storage case with included straps. Even with that bit of 'extra' weight, the straps allow for a hands free carry – or even the ability to connect this onto your gear for safe travels.
Best for Woods Hunting
Elltoe 10×42 Compact Binoculars

The fifth pair of binoculars on our list are Elltoe. These are an insanely budget friendly price, coming in at just under $50. Whatever you do, though, don't let the price fool you though, while these are perfect for anyone with a budget, they stand up to some tough use. Great for all hand types, the slim structure of the individual lenses with a shorter (yet substantial) hinge and knob set allows for ease whether your knuckles sometimes catch in between – or other lens tubes are too large to securely handle. Built strong for life in the outdoors, but smart for the perfect budget, hobby, and even gift giving opportunities.
Highlights
Dual Focus System
Weatherproof
30 Day Hassle-Free Warranty
Our Recommendation
All of the crucial factors required for a great setup. Whether you're just starting your hunting journey, you're a seasoned hunter, you're starting a friend, relative, or younger adult out in hunting, these are amazing. Compact and no-bells design allows for the 1.25 pound carry weight, making this a lighter set for your gear pack.
These are also excellent for concerts, traveling, bird watching, even sports enthusiasts. Quick and easy focus, carry bag (and straps), lens sheaths, and even lens cleaners come in this amazing package. The clear image quality alongside the close focus allows you to easily target, whilst the long eye relief makes for a comfortable hunt.
Vortex Diamondback 10×50
Another highly recommended pair of binoculars for woods hunting are the Vortex Diamondback. Gorgeous sleek design offering a field of view that's one of the largest in class perfectly helps you to catch your target easily, and quickly. Dielectric, multi-coated lenses, impressive optical quality, and durability helps to round these out. Boasting a field view of 315 feet/1000 yards | 6 degrees, you can surely agree that this setup really is something you're going to want to pay a little more attention to.
Highlights
10x magnification
Short hinge
Multi-Position Eye cup
Our Recommendation
These are a fantastic pair of hunting binoculars for those who are regularly in the woods, and as a bonus – these help fit a larger hand. While regular handling will work, the hinge design allows for more room to place your grip along with thumb indents, making it easier and quicker to set your sights.
These binoculars come with a hefty 10x magnification feature, which is quite an increase from previously noted options. If you need a bit more focus, the 10x magnification in these will not let you down. Aside from that, there's dual-view set here. You have the option for multi-positional eyecups and additional 'twist up' feature for adjustable eye relief. This is great for really adjusting these to your specific eye and personal comfortability.
Don't let their sleek styling fool you, these are built tough and can stand up to rigorous use. If for any reason, you do run into an issue with these, you're backed by a VIP Lifetime warranty with Vortex, so fret not.
Best for Low Light Conditions
Steiner 8×56 Shadow Quest

Low light conditions can be challenging for hunting. Luckily, there are binoculars which are fully equipped to allow you to have the best hunt even in the most challenging conditions. We all know some of the best hunting is done in low light, and evening outings. Now, this is a bit pricier than any others on the list, but that's for good reason. We spend a lot of time hunting, and often, we catch ourselves running into pretty low light conditions. If you often find yourself in such a situation, you're understanding of the high risk that comes with losing your target. You can't hunt, if you can't see, right?!
Highlights
96% light transmission
Diamond night time lens
Auto-focus
Lumiclip
Our Recommendation
In low light conditions, you need a pair of hunting binoculars that provide reliability and visibility. The first thing to note here, is obviously the 96% light transmission! Specialized lens crafting allows for an almost too good to be true view in low light settings, getting rid of the frustrating near-misses we're too familiar with. Along with that, the sports auto-focus focuses to each eye, and grants you exceptionally razor sharp vision from 20 yards on!
These are built tough, with military grade materials, so you can rest assured you'll be hard pressed to cause any damage to these beasts in virtually any sort of handling (or packing/carrying) error. Obviously you're going to be using these in low light, and Steiner took that into consideration, offering a Lumiclip that glows in low lighting, always keeping these in clear sight for easy use.
Another point to add in is the deep green coloring of these. Usually we'll see most construction going for the sleek black, which is beautiful and works so well. However, adding the deep green not only sets this apart from anyone else's gear, but definitely allows you to get a little more dirty in field without it being visibly noticeable. This also helps to camouflage just a little more if you're in those dense shrubbed areas.
Nikon 7577 MONARCH 5

The final pair of binoculars to make it on our list is perfect for all low-light conditions. Nikon is largely known for quality products, and they didn't take any shortcuts here. If you fell in love with the Steiner pair, but your wallet didn't agree, Nikon is here with an amazingly priced low-light binocular set. If you're looking for a feature packed, and budget friendly pair of binoculars, this just may be for you.
Highlights
Extra Low Dispersion Glass
Lightweight
'User-friendly' at every turn
Our Recommendation
These hunting binoculars are well equipped to provide fantastic assistance even in the most challenging conditions. Boasting Premium ED glass, a low 1.35 pound weight, multi-coated Eco glass lenses, and a soft case, this is a hard set to pass up on, even with the elevated pricing from our other recommendations.
You also have an array of user friendly features built in, giving you ease of use, and aiding you in your excursion. User friendly features include adjustable (turn and slide) rubberized eye cups, smooth central focus knob, and easy flip down lens caps, making the use of these quick and simple.
When you're on the hunt, you don't want to have to take valuable time out of adjusting, or even opening your lenses. The more time you can shave off this task, the better your trip will be, and Nikon was smart enough to include that!
While this particular set doesn't come with a manufacturer's warranty, Amazon does offer third party warranty options for you, to ensure your new set is protected even in the event of an accident – if that's an important feature for you.
Best New Age
Celestron 20×80 SkyMaster Pro High Power Astronomy Binoculars with Universal Smartphone Adapter
Celestron 20×80 are built strong to stand up to tough field time. They're a bit more robust and feel great in the hand while giving a sleek look, and packing some exceptional features. 20x magnification starts this pair out, and it only gets better from there.
Highlights
Wide angle view (64 degree!)
Plays well with a large amount of accessories
Smartphone ready
80mm objective lens
Detachable RSR Rail
Our Recommendation
A great feature to jump off with would be the amazingly wide view you have with this beautiful piece. Large view area (80mm objective lens) allows you to watch multiple targets at once, or stay on a quickly moving target with ease. Comes with a detachable RSR rail for optional red dot scopes, helping you to further zone in on your target with accuracy. Multiple accessories available to pair well with this set of binoculars, including the ability to fit virtually any eyepiece ranging from 35-60mm in diameter – with telescopes included. You also have the added ability to snap any photo you may desire in field. That can be during the hunt, or as a trophy photo.
Digital Night Vision Binoculars 7x31mm-400m/1300ft Viewing Range and Super Large 4'' Viewing Screen Infrared Scope in Full Dark
Taking a note or two from the Celestron, these night vision goggles really aim to please. You use binoculars in the day, of course… but there are many times you're going to need to see at night as well, and these binoculars have been built with just that in mind, aiding you in gorgeous clarity regardless of the time. These are perfect for the 'any time' venturer.
Highlights
Night and day use
Picture and video
Digital Zoom
Accessory mounting rail built in
Tripod ready
User friendly operation
Our Recommendation
Honestly, this thing is just a monster. 7x magnification with a digital zoom, objective lens and 850NM infrared lens illuminator allows you set your sights on exactly what you want at virtually any time – day or night. Great versatility with the option for accessory mounting, and always-ready tripod mounting features allow you to hand-hold, or set this up for a steady hands free view.
Huge viewing screen allows you to easily find your prey, scout your fishing hole, sneak a look at in flight birds, even concert going. This is a truly versatile binocular build, allowing you to see everything you need, in any outdoor activities you may have.
Last, but not least, the electronics portion of this set allows for pictures and videos. The idea of having a great picture to take back from an exploration is awesome, but having an entire video, catching an entire moment? Lenses, ability to accessorize, amazing electronics factored in for crisp and clean viewing, as well as the added bonus of picture and video just sets this up for one amazing pair of binoculars that shouldn't be overlooked.
Closing Thoughts
Every hunt requires a pair of top notch binoculars in order to get the best experience.
You will now have a much better idea of the top binoculars for hunting. This will allow you to make a more informed purchasing decision. The high availability of hunting binoculars means that you can find a pair which perfectly complement your hunting routine.
As you can see, we've broken these down into various needs, a budget pick, a premium pick, picks for specific wood activities, and even for events with low lighting, Please note that these have been considered the 'top shelf', and any of these would be a great addition to your gear setup. We decided to break these up into categories most hunters are after, to make your choice a little easier, and get you out in nature even quicker!
To find the best fit for you, explore these options. Check into the more general features within these as well (eye relief, lens type, knob specifications). These portions are important, of course, but are more of a personal preference for the individual at hand, and may influence your final purchase decision.