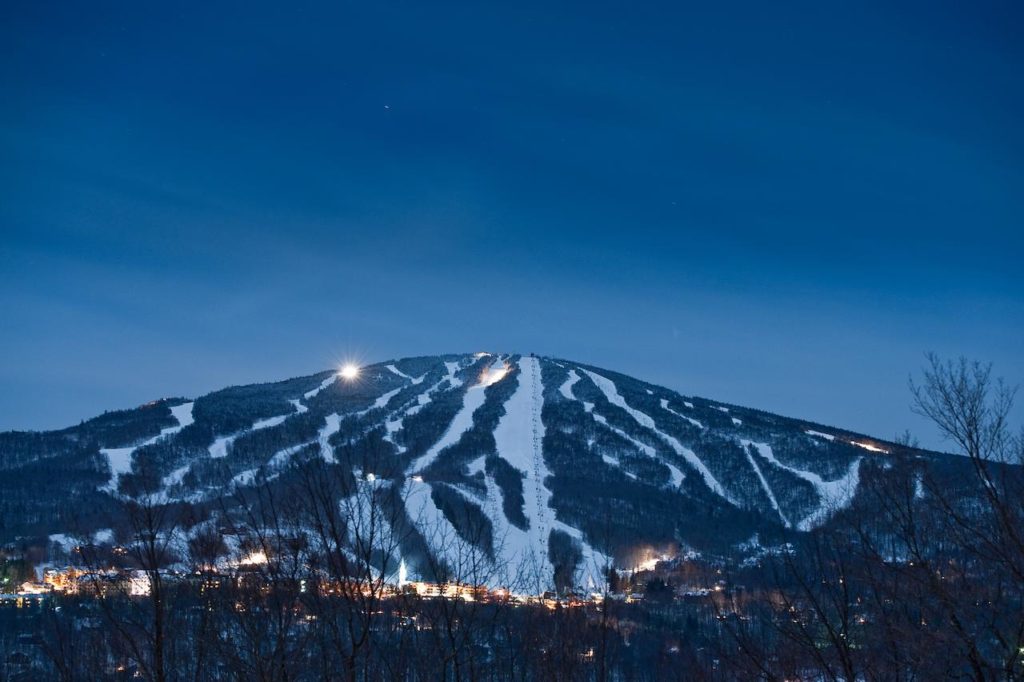 The beauty and tranquility that is associated with so many parts of Vermont, in the fall and winter times, is breathtaking. The laid-back atmosphere, fall foliage, snow-covered trees, quaint towns with their own diverse array of small shops, antique covered bridges still in service to enable transportation across small spring-fed streams and waterfalls, farmland galore and of course SKI AREAS! Stratton Mountain is one of the ideal ski resorts that have the skier, snowboarder, outdoor enthusiast and those wishing to be pampered in mind.
Nestled in the beautiful Green Mountain National Forest in the small county of Windham County, Vermont, Stratton is part of the watershed of the Connecticut River which empties out into the Long Island Sound. Mount Monadnock is the highest mountain in Windham County and the Southern portion of the Green Mountain National Forest. Stratton rests on the Northeast side of Mount Monadnock, which is also a premier destination for the Boy Scouts of America for camping and hiking.
Stratton Mountain offers such a diversity of terrain with which to afford those of all abilities to challenge their skills, while also affording those that just want to relax on the mountain a great selection of slopes and trails to enjoy. With fourteen lifts including a high-speed gondola to the summit, four quad chairs, four, six-person lifts and an assortment of triples and double chairs, totally sixteen lifts throughout Stratton Resort to offer more time skiing instead of waiting in lines. The high-speed gondola is the only one in southern New England, by the way!
90% of the slopes at Stratton offered snowmaking and combined with efficient grooming technology, conditions are favorable for ideal skiing. A 2003 foot vertical drop, an elevation of 3,940 feet with nearly 600 acres of skiable terrain complimented with terrain parks, premier lodging, spas, restaurants, shopping, sports center, affords anyone looking for outdoor thrills and entertainment an experience that should genuinely be acknowledged and explored.
Stratton offers 92 diverse trails and slopes that will provide you with a nice array of moguls, steep drops, easy going trails, and downright hair-raising terrain for the experts out there.
If you are a novice or looking for the easy way down the mountain, Mike's idea, meadow, easy street, wanderer, 91 and tamarack are a great choice. Wish to up your ability and challenge your skills then, black bear, spillway, interstate, betwixt, lower Downeaster and super sunrise trail can offer you just that.
Now, if you are an expert, or just think you are and wish to tackle and meet your fears face to face with Stratton Mountain, then might I suggest, Snowbowl, Franks' fall line, upper kidderbrook, lifeline, and polar bear. I know that there are a few of you that are thinking to yourself, I can handle any terrain and those slopes and trails are no problem. Whether it be ego trip, the thrill of the hunt or absolute craziness, Stratton has double black diamond trails created especially for you, thrill seekers. Start off with test pilot, shred wood forest, upper slalom glade, kidderbrook ravine, bear down or diamond in the rough and then let me know what you think and if your head has been deflated a tad.
There is an easy way from the summit down to the base lodge that can be accomplished by taking the gondola to the top and veering off to the right. Take Mike's way or easy street, to upper west meadow or work road, then to the lower west meadow and concluding with the lower wanderer, or old log road. There are also slow areas designated for those learning or don't wish to have the stress of high-speed aerial tactics and freefall skiers bombarding them to impede their fun and focus on working on their skills.
Of course, Stratton has all the amenities to go along with the skiing to ensure you are safe and prepared for your day of skiing. Ski lessons, first aid service, ski rentals, kids camp, child care and terrain parks for the snowboarder in you are available. Don't forget to check out the various shops, restaurants, and events throughout the year that may offer you other alternatives to skiing. Not to mention that the area surrounding Stratton is beautiful and full of fun things to see and do.
Thinking about skiing or just getting away from the hustle and bustle of everyday life, pack up the kids, skis and suitcases and head to Stratton for premier accommodations, fun, and excitement.
Have you ever been to Stratton before? Share your experience with us!
Learn more at: https://www.stratton.com/